Victorian Council's Gesher launch a major triumph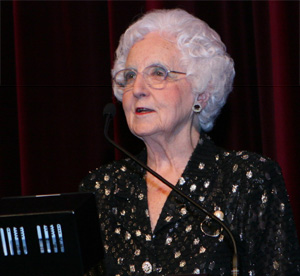 The launch of the 2006 issue of Gesher, the annual publication by the Victorian Council of Christians and Jews took place at a glittering function earlier this year in Melbourne's impressive Malcolm McComas Centre of Scotch College in Hawthorn.
Equally impressive was the ceremony, attended by an audience of 200 who heard a sensitive and informed address by the evening's guest of honour, prominent Parliamentarian Malcolm Turnbull.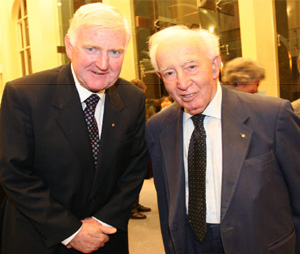 Introduced and masterminded by the Victorian Council chairman, Bill Clancy AM, the evening also heard an impassioned address by the Gesher editor, Mona Sturrock.
The evening was attended by the patron of the Australian Council, Sir Zelman Cowen AC and Lady Cowen with a broad representation of Victoria's Jewish and Christian communities.
Above: Malcolm Turnbull MP, Gesher editor, Dr. Mona Sturrock, right: Bill Clancy and Sir Zelman Cowen (photographs: Elizabeth Clancy)
E
ditorial
One of the issues which increasingly challenges the Chrisitian-Jewish dialogue is the extent to which it should move to the inclusion of Islam. There has been an increasing pressure in many circles to expand the dialogue into a trilateral reality.
Pope Bendict XVI, in a recent address to the leadership of the American Jewish Committee, repeated remarks along the line he had articulated in a meeting convened in association with the World Jewish Congress. The President of the International Council of Christians & Jews, Fr. John Pawlikowski has experienced such pressure on a regular basis and is on record as saying "there is is no question in my mind that there is urgent need for trilateral discussions."
Within ICCJ an Abrahamic Forum was established some years ago but there are those in the ICCJ who believe that moving exclusively to a trilateral model will not serve the organisation well. As Fr. Pawlikowski notes, from a Catholic point of view there are differences in the Catholic-Jewish relation- ship and the Catholic-Muslim relationship theologically and historically which must be honoured. Cardinal Walter Kasper and Archbishop Michael Fitzgerald have both underscored these differences over the years.
But, on the other hand, the time has also come for more on the ground examination of how development of the trilateral dimension, including the theological aspects can be approached while not sacrificing the specific, continuing questions in the Catholic-Jewish discussion.
There is also a need for a Jewish-Muslim discussion which the ICCJ can encourage but not shape. The recent international meetings of rabbis and imams, while not entirely harmonious, represent a step in the right direction and should be encouraged. It is to be hoped that the 2007International conference, to be held in Sydney next July will provide some opportunities for a meaningful start, however tentative and however preliminary, to initiatives which will result in better understanding and a harmonious relationship of the faiths in Australia.
Salvos launch Christmas appeal
The Salvation Army launches its Christmas Appeal today with a strong message to all Australians: "Christmas this year will be extremely tough for thousands of people just like you".
While it's a happy and indulgent time for most, the Salvation Army asks everyone to spare a thought and a financial donation for those who battle to make ends meet, every day. Across Australia, The Salvation Army will assist more than 300,000 people this December. This will be in the form of food, shelter, counsel, toys, financial assistance and more. The need is great and it's urgent.
This year The Salvation Army has helped an entirely new group of people at our emergency relief centres, as well as the people already living in poverty. They are the 'working poor' because they're hard working Australians, trying to raise a family but their weekly wage isn't covering the bills for food, petrol, utilities, school fees, clothing and day-to-day living expenses. This leaves little or no room for Christmas dinners, holidays, presents, Christmas trees or celebration.
Vina Fernandes has been working at the Salvation Army's Doveton Community Services Centre for nine years "Every year we see more and more people in the lead up to Christmas, seeking help with food and gifts", she said.
"This year, we've had 80-100 extra families coming to us for help each month. This is in addition to the 800 existing people needing assistance every month."
Everyone can give something
This new group hasn't needed our help up until now, but with the petrol crisis, the increasing costs of living and housing issues, people can't stretch the dollar far enough. Then Christmas comes along and they feel immense pressure. But they simply can't afford it."
The Salvation Army is asking all Australians to consider those who are really battling to survive.
Everyone can give something that will go a long way to providing a homeless child with shelter, a woman and her children with a hot Christmas lunch on Christmas Day, or a family with food for the Christmas week. Please call 13 SALVOS (13 72 58) today and help give hope to the thousands of families in need.
Or contact www.salvationarmy.org.au/
---
He couldn't
have been
a real
priest …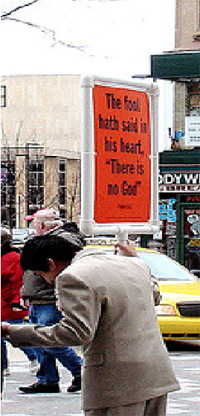 "Christianity believes that Jesus' death removes sin from the world, so what would have happened to sin without his death?" asks Emeritus Rabbi of the Great Synagogue in Sydney, Raymond Apple, AO.
He marched in a pro-Palestinian demonstration through Sydney not long ago. He bore a placard which bore the Message: "They killed the Prince of Peace, so what do you expect from them?"
He wore a clerical collar. He appeared to be a priest calling on Christians to rise up against the Jews.
I suspect he was not a real priests at all, but a dressed-up actor (clerical collars are easy to buy, even easier to borrow) A real priest, whatever his view of events in the Middle East, would not be so foolish as to peddle such anti-Christian sloganism.
"Anti-Christian"? Surely the name for antisemitism. But it is anti-Christian too. It ignores the fact that after centuries of Jewish suffering, a series of official church statements has unambiguously repudiated the accusation of deicide.
It takes no account of the fact that, after centuries of careless misrepresentation, Christian scholarship today rejects the claim that it was Jews who killed Jesus. (One might add in puzzlement that whoever did kill Jesus, Christianity believes that his death removes sin from the world, so what would have happened to sin without his death?)
No real priest would shoot himself in the clerical foot by denigrating the Jews. A "priest" who can find nothing good to say about Jews and would presumably prefer them all to lie down and die is doing none a service.
To be fair, he would have to deny himself the benefit of all the ongoing Jewish contributions to civilisation. He would have to rewrite history, leaving out Einstein's theory of relativity as well as tests and treatments for syphilis, diabetes, convulsions, malnutrition, infantile paralysis and tuberculosis, discovered by Jews. He would have to live without the movements in art, music, literature, philosophy, science, medicine, law, media, education, democracy and commerce developed by Jews.
Naturally he would have to manage without the Scriptures, the Psalms and the Tem Commandments; without monotheism, love of God, love of one's neighbour and love of the stranger, without the sanctity of life, the dignity of all human beings; indeed, the concept of the Messiah… and to go in for really serious denigration of Jews, he'd have to give back the Jew Jesus too — and Christianity itself. No — whoever he is, he can't be a real priest and what he says can't be Christianity.
---
Pope Pius XII: "Be proud to be a Jew!"
In a remarkable historical find, testimony has emerged revealing that in 1941, Pope Pius XII received a German Jewish visitor at the Vatican seeking help for certain Jews who were being held in an Italian internment camp. Welcoming the young man and promising him help, Pius told him not once but twice–in emotional language, in front of a large group that included German soldiers– "Be proud to be a Jew."
The amazing testimony, written as a first-hand account by an anonymous Jewish author in wartime Palestine, originally appeared in 1944 in "The Palestine Post" (now, "The Jerusalem Post"), the most influential Jewish publication in the world at that time.
According to long-time "Inside the Vatican" contributor, William Doino, who discovered the testimony in an archive maintained by Tel Aviv University, "the testimony has apparently been forgotten, because, as far as I know, no leading Holocaust authority or biographer of Pius XII has ever cited it." As the article reports, the Jewish author attended a papal audience in the autumn of 1941.He entered the papal chamber along with numerous other people, including a group of German soldiers. (It was common for soldiers to visit the Pope early in the war era. Later, when Hitler learned of what the Pope told them, he put an end to this practice.)
The author was the final individual to approach the Pope that day. He wanted to tell Pius about a group of Jews who were being interned by Italy's Fascist government on an island, in danger of starvation. He tried to speak in broken Italian, but the Pope invited him to use his native language, assuming it would be German. "You are German, too, aren't you?" asked the Pope. The author then explained that he was born in Germany, but he was a Jew.
Pius invited the author to finish his story. He listened intently then said: "You have done well to come to me and tell me this. I have heard about it before. Come back tomorrow with a written report and give it to the Secretary of State who is dealing with the question. But now for you, my son. You are a young Jew. I know what that means and I hope you will always be proud to be a Jew!" Pius then raised his voice so that everyone in the hall – including the German soldiers – could hear it and said (in a "pleasant voice"): "My son, whether you are worthier than others only the Lord knows, but believe me, you are at least as worthy as every other human being that lives on our earth! And now, my Jewish friend, go with the protection of the Lord, and never forget, you must always be proud to be a Jew!"
The significance of this testimony, particularly for the cause of Pius XII, is still too early to gauge, but Doino said "it may well be the most explicit single testimony about Pius' personal feelings toward Jews that has ever been recorded. It is not too far removed from Pius XIs famous declaration of September 1938: "No, it is not possible for Christians to take part in anti-Semitism…. Spiritually, we are all Semites." But Doino notes one great difference between the statements: "Pius XI's remark to a group of Belgian pilgrims was given wide publicity and is often quoted; Pius XII's statement has been lost to history — until now." "For Pius XII to make this statement to a German Jew in 1941, in private, would have been remarkable enough," continued Doino. "That he did it in public, with his voice raised so that everybody in the hall could hear it clearly, in front of German soldiers as well as cardinals, bishops and other high dignitaries of the Vatican government, is more astonishing still. It doesn't merely reveal Pius XII's kindness and Christian compassion; he goes well beyond that and affirms the young man's Jewishness, the very core and dignity of his being.
---
The NSW Council remembers Kristallnacht in Sydney . . .

Martin Place in the Sydney's CBD once again saw the commemoration of Kristallnacht, the Night of Broken Glass by the Council of Christians and Jews in NSW, in the presence of a large gathering of members and onlookers.
Clockwise – from top left: CCJ NSW's Major Graham Harris with Australian Council Hon. Secretary, Dr. Marianne Dacy; a section of the crowd; Council member, Alex Ferson, North Shore Temple Emanuel Rabbi Emeritus Richard Lampert, CCJ NSW Executive member, Bill Szekely; Rev. Paul Weaver, who led the commemoration service; the sounding of the Shofar by Great Synagogue Chief Minister, Rabbi Jeremy Lawrence which ended the commemoration service; members of the Choir of St. Mary's Cathedral School who presented a series of hymns and commemorative melodies as part of the moving ceremony, the theme of which was – as in past years — "Never Again".
---
My Pretend Jewish Wedding at the Sydney Jewish Museum
"A free Open Day will be held on Sunday March 11 at the Sydney Jewish Museum (SJM) and everyone is invited to visit our exhibitions and join in the fun of the wedding", the Museum's Margaret Gutman has announced.. "Be a guest at our Pretend Jewish Wedding complete with choir and the re-enactment of a traditional ceremony with its special religious features explained, followed by wedding cake cutting, refreshments and Israeli dancing," Margaret Gutman added.
The Museum will open from 10am to 4pm. The wedding ceremony will start at 2pm. SJM is located in Sydney's Darlinghurst, on the corner of Burton Street and Darlinghurst Road.
---
ABC to televise a special Yom Hashoah choral event
On Sunday November 5 Sydney's Emanuel Ensemble and the Choir of St Francis Assisi of Paddington took part in a ground breaking event by recording an Australian version of Hymns of Glory.
The recording by ABC TV under the direction of Noel Debien was structured to become a memorable broadcast on Yom Hashoah (the day of Remembrance of the Holocaust) and will be telecast by the ABC on that day next year, Sunday April 15.
"This was a very special Interfaith gathering"' said Temple Emanuel Cantor, Joseph Toltz.
"We came together in a forum of mutual respect and sensitivity for our traditions, to commemorate the Shoah together with local ministers from St Francis, the Uniting Church Paddington, St George's Anglican Church 5-Ways and Temple Emanuel's Rabbi Elizabeth Hersh to present a program of Jewish and Christian music, reflective of the Holocaust," Cantor Tolz added.

Temple Emnuel Woollahra Cantor, Joseph Tolz
Music has been chosen that is sensitive to both Jewish and Christian sensibilities including works from popular and stirring Hymns (All People Who on Earth do Dwell) to Tomas-Luis de Victoria's beautiful setting of the Lamentations of Jeremiah.
The interesting final feature is the singing of "The God of Abraham Praise", which is based on the Yigdal tune, regularly used in Synagogue services and thereby interspersing both Hebrew and English settings!
Telecast to include special interviews
As well as the contribution from the Emanuel Ensemble, special interviews will feature in the program with Temple Emanuel congregant, Judy Nachum, a survivor of the concentration camps at Theresienstadt and Auschwitz and with Edward, Cardinal Cassidy, until recently head of the Vatican's Collegiate Commission for Relations with Jews, the Pope's highest representative on Jewish-Catholic relations.
---
World's first: Vatican hosts world premier of new movie: "The Nativity Story"
New Line Cinema's The Nativity Story has become the first feature film ever to premiere at the Vatican.
New Line's President and COO of Worldwide Distribution and Marketing, Rolf Mittweg, and Stefano Dammicco, CEO of Eagle Pictures, the film's Italian distributor. The Nativity Story revealed the film is scheduled for a December 1 release in the U.S.
7,000 guests
The premiere, to be held at the Vatican's Aulo Paolo VI (Pope Paul VI Hall), will be attended by The Nativity Story's director Catherine Hardwicke, actors Shohreh Aghdashloo and Oscar Isaac, producers Marty Bowen and Wyck Godfrey, screenwriter Mike Rich, and 7,000 invited guests. The event will serve as a benefit, with contributions going toward construction of a school in the village of Mughar, Israel – which has a diverse population of Christians, Muslims, and Druze and is located approximately 40 kilometres from Nazareth.
Perfect venue
"We are very proud of The Nativity Story and extremely grateful that the Vatican has embraced the film in this way," Mittweg said. "We believe it is the perfect venue to present the film's universal message of hope and faith, a message we are sure will resonate around the world." "The Nativity Story is an extraordinary event, and this premiere is a fitting way to reach out to our community and share the experience," says Dammicco. "It is a privilege for Eagle Pictures to be New Line's Italian partner on the film." The event has been made possible due to the collaboration of the Pontifical Council for Culture, the Pontifical Council for Social Communication, the Vatican Film Library, the Pontifical Council "Cor Unum" (for Human and Christian Development), the Vicariate of Vatican City State, and the Foundation for Sacred Art and Music.
The film chronicles the arduous journey of two people, Mary and Joseph, a miraculous pregnancy, and the history-defining birth of Jesus.
motion picture starring Academy Award® nominee Keisha Castle-Hughes Whale Rider) as Mary, Oscar Isaac (upcoming Guerrilla) as Joseph, and Academy Award® nominee Shoreh Aghdashloo (House of Sand and Fog) as Elizabeth, the mother of John the Baptist. The Nativity Story is directed by Catherine Hardwicke.
---
Hollywood's Fledgling Faith
Religion is showing up more in Film and TV, writes Father John Flynn
Hollywood seems to have found a bit of faith in movies with religious content, or at least faith in these films' ability to make money. A spate of new releases in October sparked off interest in the media about the new trend.
The first to come out was "Facing the Giants," which was produced by a Baptist church and uses a story based on high school football to get across a Christian message.
In its first 10 days the film made $2.7 million, well above its low budget of $100,000, the Washington Post reported. According to the newspaper, three years ago the members of Sherwood Baptist Church in Albany, Georgia, decided to make a movie. It proved to be a success, despite its largely inexperienced cast and crew. The protagonist of the film is a high school football coach who has a number of personal and professional problems. His life changes when he adopts a philosophy of life based on the Bible.
Enthusiasts for religious films have other selections available too. "One Night With the King," another new movie, is based on the Old Testament's Book of Esther. The $18 million film was produced by Paul Crouch. His company, Gener8xionEntertainment, was founded to place Christian messages into the wider culture, reported the Dallas Morning News.
Then, in late October, came "Conversations With God," based on a book by Neale Donald Walsch, an author described by the Dallas Morning News at "New Age." Walsch claims to channel conversations with the Almighty.
The start of December will see "The Nativity Story," from New Line Cinema (see story above).
Box office success
Interest in religious-based films has grown since Gibson's "Passion." That film sold around $370 million of tickets in the United States, and almost $612 million worldwide. Then came "The Chronicles of Narnia: The Lion, the Witch and the Wardrobe," which grossed $745 million globally. And "The Da Vinci Code" grossed $754 million.
The films that came out in October were from small independent producers, but the bigger studios are also interested. The Los Angeles Times reported that Fox Entertainment, a division of Rupert Murdoch's News Corporation, is establishing a division called FoxFaith. It plans to produce up to a dozen films a year.
"A segment of the market is starving for this type of content," said Simon Swart, general manager of Fox's U.S. home entertainment unit. According to the Los Angeles Times, FoxFaith will target evangelical Christians. The films will be based on Christian books and will have relatively small budgets, of around $5 million.
Drawbacks
The move by Fox follows on its inauguration last year of a FoxFaith Website that has already sold 30 million faith-based DVD titles to Christian retailers.
There are drawbacks, however, to the film industry's interest in religion. On Aug. 25 the Times newspaper of London reported that a film on St. Teresa of Avila is drawing protests. "Teresa: Death and Life" was criticised by Benedicta Ward, a reader in the history of Christian spirituality in the Theology Faculty at Oxford University. Ward wrote the introduction to a recent edition of St. Teresa's autobiography.
She criticised the film for its stress on St. Teresa's virginity and sexuality and said it would be more historically accurate for the film to concentrate on Teresa's mystical and spiritual activities. –
Negative television
Religion has a harder time on the smaller screen, with the United Kingdom's BBC coming in for strong criticism recently. On Oct. 1 a BBC1 Panorama program broadcast a documentary, "Sex Crimes and the Vatican." It alleged a cover-up by the Catholic Church of sexual abuses committed by priests against children, and accused the then Cardinal Joseph Ratzinger of being responsible.
The accusations made by the BBC are "malicious and untrue and based on a false presentation of church documents," said the Archbishop of Westminster, Cardinal Cormac Murphy-O'Connor, in a letter earlier this year. The cardinal also expressed his surprise that the BBC made no attempt to contact the Church in England to seek accurate information on the subject.
"There will be many, not only Catholics, who will wonder if the BBC is any longer willing to be truly objective in some of its presentations," Cardinal Murphy-O'Connor added.
The BBC had come under fire earlier for a three-part series on miracles, reported the Canadian newspaper National Post. "It always seems that it's Christianity which gets the investigative and negative treatment," said Peter Kearney, a spokesman for the Scottish bishops' conference, according to the National Post.
Meanwhile, in the United States, the NBC network came under fire for a decision about an animated children's TV series, "VeggieTales". The series regularly contains religious material and was recently acquired by NBC. Since buying the rights to the programs NBC ordered that most of the references to God and the Bible be eliminated, reported the New York Times.
In the same week NBC was censoring "VeggieTales" it gave the go- ahead to televising a concert by pop singer Madonna that included a crucifixion scene widely condemned as offensive to Christians.
Meeting the challenge
In order to orient Catholics in their use of the media, some bishops' conferences have issued guidelines. In August the Canadian bishops published a document entitled "The Media: A Fascinating Challenge for the Family."
The media have immense power due to their pervasive presence, the bishops noted. This can be positive, if the media inform and educate. "But they also have the capacity to harm the family by presenting a false vision of life, love, family, morality and religious beliefs," the document warned.
It recommended that families train themselves to view the media with a critical eye, basing themselves in their faith and a passion for the truth. The bishops also called upon the faithful to make their own contribution in communicating the Church's message through the media. They suggested reacting to media bias against religion by means of protests.
Being a "media-savvy family" means putting a limit on the time spent using the means of social communications and choosing appropriate programs, especially for children. The document set out a series of recommendations for parents on how to instruct their children on media use.
Earlier in the year, in February, the Australian bishops' conference published "Go Tell Everyone: A Pastoral Letter on the Church and the Media." The prelates recognised the positive aspects of the media, for example, on the occasion of the death of Pope John Paul II and the election of Benedict XVI.
Nevertheless, not all is positive. The Australian pastoral letter called on Church members to be "critical users," not "passive consumers," of the media. Exhorting the faithful, the letter commented: "The strength of our message lies in the authenticity with which it is presented."
---
AROUND THE WORLD
Russian Orthodox Metropolitan urges: Stay with WCC
A senior Russian Orthodox hierarch has said it important for his denomination to continue its participation in the World Council of Churches while warning of the dangers of self-isolation during a radio interview in Moscow. Metropolitan Kirill of Smolensk and Kaliningrad told Radio Mayak, a state-run radio station, that the Geneva-based WCC is the best forum for the Russian Orthodox Church to bear.
Ethics 'must be part of climate change' talks, says US-based group
Civil society groups are lobbying at international climate talks in Nairobi to have ethics and justice considered in negotiations, and one accused governments and other parties are sticking to old arguments on economics, science and national self-interest. "Ethics, human rights, distributive and procedural justice must be part of international negotiations seeking any comprehensive solution to climate change," Donald Brown, the co-ordinator for the Collaborative Program on the Ethical Dimensions of Climate Change announced.
Religious leaders hail historic Nepal peace pact with Maoist rebels
Christians in Nepal have joined in widespread rejoicing over Maoist rebels signing a pact with the government thereby renouncing violence and handing their weapons to a United Nations monitoring group to enter the political mainstream. "This historic agreement ends the 11 year-long armed conflict setting a new record and a model of conflict resolution in a peaceful manner," said the National Christian Council of Nepal.
Lutheran leader wants swift probe into Salvador pastors' killing
The Salvadorian authorities should conduct a swift and full investigation into the shooting to death of two pastors in the Central American country on 4 November, the leader of the 66 million strong Lutheran World Federation is demanding.
The general secretary of the Geneva-based LWF, the Rev. Ishmael Noko said on 8 November he had received "with deep distress news about the murder" of two pastors from the Salvadoran Lutheran Synod, Francisco Carrillo and Jesus de Carrillo.
YMCA plays key role in Bangladesh micro-credit programme
Amina Begum, is a mother of three children who can barely read, and is not sure of her exact age. But life for 30 something woman has undergone a transformation since 2001 when she joined the Jamuna women's development council at Mathura Para village in the Qutabpur district of northern Bangladesh.
"My husband respects me a lot now and consults me on every major decision."
Right wing attacks in Germany remind Jewish group of Nazi era
The president of German's Central Council of Jews, Charlotte Knobloch, has drawn parallels between recent extremist attacks in eastern parts of Germany and the 1930s era under Adolf Hitler when the Nazi's were consolidating power. Her warning came ahead of the anniversary on 9 November of Kristallnacht (also known as Reichspogromnacht) in 1938, a night in which purges were launched against Jews in Germany.
British bishop says climate campaign is not political, but 'spiritual'
Churches in Britain have joined the Stop Climate Chaos Coalition and aim to mobilise Christians to take stewardship of a threatened earth just as a critical United Nations conference on the planet is taking place in Nairobi. The Anglican Bishop of London, Richard Chartres, led churches' Operation Noah campaign supporters bearing banners to a rally at London's Trafalgar Square where thousands of people gathered. Chartres told Ecumenical News International: "This is not a political campaign. It is something that springs out of the Bible. We are all participants in the web of life. This is a deeply spiritual initiative."
US Episcopal Church installs first female presiding bishop
Bishop Katharine Jefferts Schori, 52, has been installed as the first female presiding bishop in the US Episcopal Church and in the Anglican Communion, at a time when the denomination's relationship with the Worldwide Anglican Communion is tense. She was installed in her leadership role for the 2.4-million-member US church at the National Cathedral in Washington DC.
Two Lutheran churches in Norway move closer to unity
The (Lutheran) Church of Norway and the Evangelical Lutheran Free Church of Norway have negotiated an agreement of full recognition and cooperation to come into force once approved by the synods of the two denominations. "We can serve each other as churches with the experiences we have from our different church structures," said the Rev. Olav Fykse Tveit, the ecumenical officer for the Church of Norway. "One plus one is more than two in this context."
German Bible in inclusive language sells out quickly Bielefel