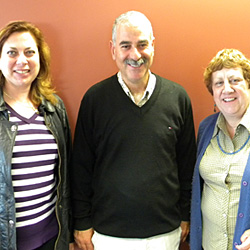 While they may be peace-builders working for the same result, they appear to be labouring in their endeavours to find a mutually agreeable path.
This week, three members of the Inter-religious Coordinating Council of Israel – Jewish Israeli Dr Debbie Weissman, Muslim-Arab Israeli Issa Jaber and Christian-Arab Palestinian Rula Shubeita – were in Australia courtesy of the Australia/Israel & Jewish Affairs Council, to spread their message of grassroots peace-building.
Speaking at one of their many engagements on Friday, all three emphasised the need for peace in Israel and the need for a two-state solution. However, all had slightly different perspectives on what that peace requires.
Dr Weissman, an academic and interfaith advocate, said it was a matter of working within the frameworks of the three monotheistic religions – Judaism, Islam and Christianity.
She spoke of a teacher who told her: "Even the choicest fruit [trees] need regular pruning" – meaning that even ancient religions need to be reinterpreted to suit the times.
"Religion is not the problem, it can be part of the solution," she said. "Each religion contains within it the resources that can promote openness."
Jaber, on the other hand, saw education as the key to peace. An education expert and former mediator in the Knesset, Jaber said children needed to be taught properly in order to breakdown stereotypes and prejudices."
Everything belongs to the new generation," he said. "If we want to change conditions we should work on the new generation."This, he said, needs to happen on both the Israeli and Palestinian sides.
Israeli schoolbooks, he said, "still ignore the fact that there are partners on the other side".
"Sometimes nothing is mentioned about Palestinian national separation or Palestinian rights," Jaber said.
The Palestinian curriculum is just as problematic, he added, having had a much-needed update scrapped when the Second Intifada broke out in 2000.
Meanwhile, Shubeita, a tour guide who was born and lived her whole life in Jerusalem without Israeli citizenship, said the Holy City remained the sticking point to peace.
"From my point of view, we need Jerusalem to be an open city so people can come and practice their religion freely," she said.
As a tour guide, she said it was unfortunate that tourists were restricted in their travels, particularly to Bethlehem, the reputed birthplace of Jesus."
"We need the checkpoints to be open for people to move freely," she said.
The three peace-builders did, however, all agree with Dr Weissman on the need to "create dialogue that can sustain peace".